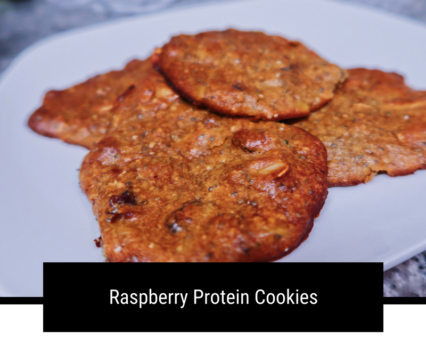 Protein-Packed HEALTHY Raspberry Cookies
Happy Monday!!
I hope you all had an amazing weekend! Today I wanted to share the perfect protein-packed healthy COOKIE. Yes there are healthy cookies out there. Not only are they delicious but they are also EXTREMELY good for you…like I mean jam-packed with healthy, yummy goodness!
These are perfect for on the go when your needing a quick dose of protein. I either have one for a sweet treat at night or I have a few to serve as a meal replacement if i'm running low on time (or if i'm straight up just being lazy).
Feel free to add anything extra to these cookies. When I cook I treat the kitchen like a science project meaning I randomly mix things together that I think will ultimately taste good. Sometimes it doesn't go great but most of the time it's a hit. This recipe is definitely a hit!
As You Probably Know…
I don't count calories and I don't adhere to a super strict diet. I make whole food from quality sources that I genuinely enjoy eating. I have cheat meals every so often but when you genuinely love the foods you're eating it's not that hard to stay on track. Over the years I have drastically changed my eating habits. If you want more on what I used to eat and how I made such drastic health changes, let me know in the comments below and I'll be sure to write a blog on just that!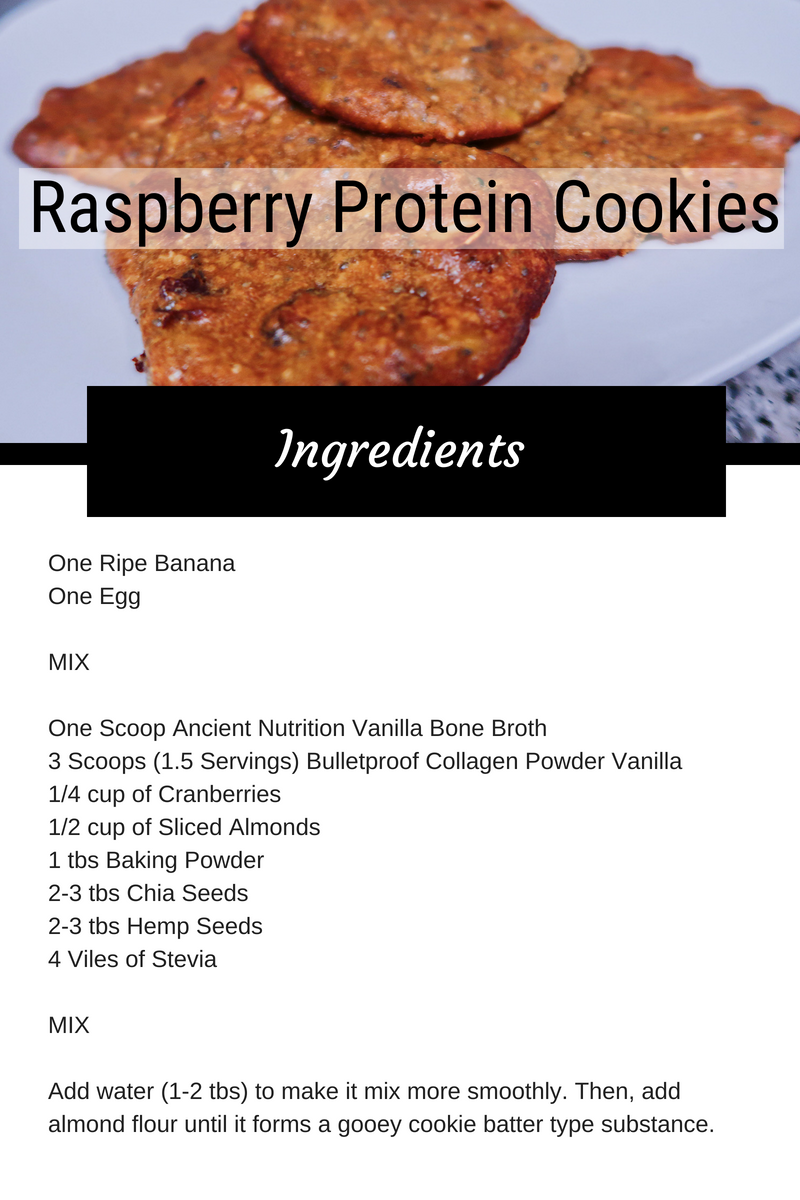 The Healthy Superfood-ish Ingredient List
1. I added a Vanilla Bone Broth, by Ancient Nutrition, to make the base for these cookies. Typically, I don't like bone broth powder on its own but baking it in treats is a whole different story. When you bake with the bone broth powder it you gives you that cookie dough-y texture type feel… if you know what I mean!
Bone broth is good for hair skin and nails but most importantly it is incredibly supportive when it comes to your immune system and gut health. Bone broth is even considered one of the most powerful foods to help with Leaky Gut.
2. I used a clean source of protein for these cookies and since collagen protein powders are super hot right now I figured I would go with the Vanilla Collagen Protein Powder by Bulletproof. Collagen based protein powders are phenomenal for the health of your hair, skin and nails. What I find even more intriguing is that collagen proteins powders are great for proper muscle building, joint health and they can even help with cellulite (ladies, don't sleep on this one!). I also enjoy collagen products because not only does it support good joint health but it can also help with joint pain.
A note on protein…
As a holistic health and wellness coach I've come to the realisation that EVERYONE IS DIFFERENT. Therefore, different proteins will work differently in everybody (every – body). Remember that quality is important. I personally think that plant proteins are great. So are beef isolate proteins. As with anything the quality is crucial when it comes to deciding which protein powder to purchase and use. Some whey proteins can cause issues for people (lactose). I typically recommend whey proteins for after workouts for optimum recovery but when cooking I always use alternatives. By no means am I vegan or vegetarian but I do use plant based substitutes when I can. That works for me – find what works for you!
1. I use Stevia as a sweetener because it doesn't spike insulin levels like conventional sugar. I wouldn't be caught dead with conventional sugar in my home…I'm serious… I hate to be dramatic but there's just no

use for it. It's linked to almost every disease and health issue on the planet and there are much better healthy alternatives to use. If I use a natural sugar it's either a high quality maple syrup, dates or (most often) raw organic honey.
2. I use

almond flour instead of conventional flour because its a quick and easy alternative for virtually the same result. Flour, like sugar, is linked to a whole bunch of health issues. To avoid it, I use a blanched almond flour (blanched makes it easier to digest). Almond flour also has a lower glycemic index meaning the energy you gain from this food will last longer and be more sustainable. It also doesn't spike your blood sugars like conventional flour would. Low glycemic foods are often linked to weight loss, better heart health, and improvement in mental clarity, focus and overall natural energy. Almond flour also has tons of nutrients and protein that you won't find in conventional flour – this easy substitution is a no brainer to me!

When making protein cookies I always like to add some texture. 
3. For this recipe I used

hemp seeds

,

chia seeds

and sliced almonds (from Trader Joe's). Chia seeds have loads of fiber and are a great source of omega-3 s making them powerful anti-inflammatory foods. They also have antioxidant properties and are loaded with vitamins and minerals.

Hemp seeds are a great way to add some texture to anything from salads all the way to baked goods. They are nutrient rich and filled with tons of omega-3's and omega-6's. In addition they have 10g of plant protein per serving.
Other ingredients: One egg, one ripe banana, ¼ cup of sliced almonds, 1 TBS Baking Powder – for fluff, 1/4 cup of dried cranberries.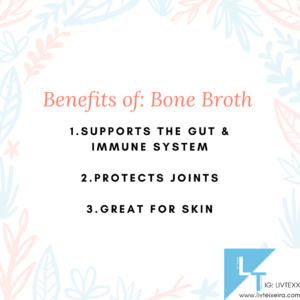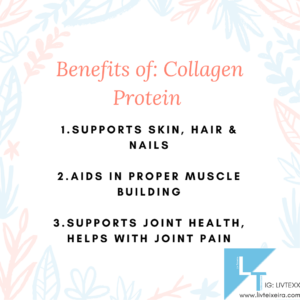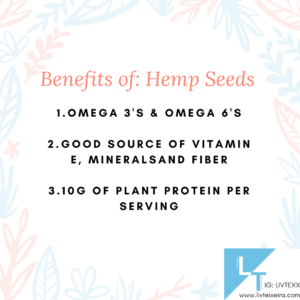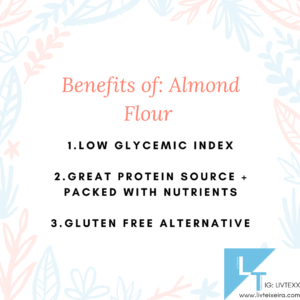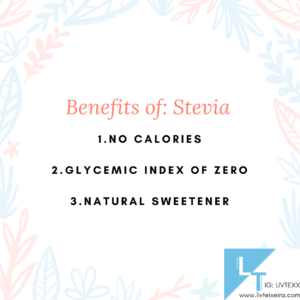 Want To Spice It Up? A Few Substitutes…
Here are some things you could add for flavor or just for some extra health benefits!
Dates – For texture and added sweetness
Raisins – For a different flavor, add cranberries and raisins to mix it up!
Rolled Oats – I don't really eat rolled oats typically but you could easily add some for some extra texture. 
Chocolate – Everyones favorite thing! Chocolate is the perfect way to add some flavor to these already delicious cookies. However, quality really matters here! Check out my chocolate tips below before you grab a generic candy bar.
Decorate Them For The Holidays
Halloween, Thanksgiving and Christmas are all right around the corner! Make these yummy festive protein cookies and top them off with a healthy colored frosting! (Frosting recipes found here) These cookies are the perfect sweet treat for the kids and even for the adults. The best part is they aren't loaded with sugar and instead packed with nutrient dense whole foods!
Chocolate Tips
If you want to add a good quality chocolate I recommend Lilly's – I linked the chocolate chips because they are perfect for this recipe. I also personally love the salted caramel flavor! Its seriously my favorite chocolate ever! Also, when it comes to chocolate please understand that the quality MATTERS. Real organic chocolate (with no sugar added) is a powerful antioxidant food that has been linked to cancer prevention, improvements in heart health and overall memory and cognitive function! Its great to finally know that chocolate IS good for you after all. You just have to make sure it is from a quality source!
For a list of all the benefits of chocolate, check out this article!